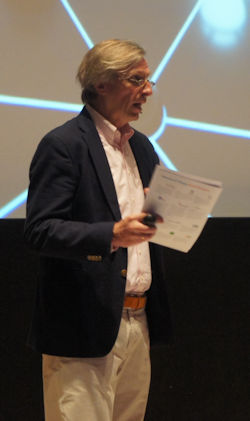 Combining business, technology, creativity, enthusiasm and humour is the leitmotif of Pieter Hermans, matchmaker for innovators. After his study Industrial Design Engineering at Delft University of Technology, he has had management functions in corporates like Philips, Volvo, Pink Roccade, in start-ups like Elektroson and Tikcit, and has been consulting partner in GEA consultancy / Interim Management.
He is an excellent networker, who feels at home amongst High Tech-, Business-, Marketing professionals and Academia. He loves to start greenfield projects.
He acquired Jakajima, a Benelux publishing company, and restructured it towards a matchmaker for innovators in the high tech industry, ranging from 3D Additive Manfacturing to Internet of Things, from Unmanned Systems to Health Tech, from Photonics to Sustainability.
As the technology develops itself from atoms to bits and from bits to atoms, traditional boundaries between value chains disappear which offers new business opportunities. Pieter Hermans, matchmaker for innovators, focuses on these crossovers and on business development opportunities.
He has been chairman of the Platform Unmanned Cargo Aircraft, which is is an open, non-profit association of member organizations which aims to support the development and deployment of Unmanned Cargo Aircraft.
He has been chairman / moderator of several international conferences and has given many presentations on these crossovers of technology, business and creativity – not to forget enthusiasm and humour.
To get a good view of his broad experience and interest in many areas, have a look at his LinkedIn profile.
He is available as interim business development manager. For more information contact him via p[dot[hermans[you know]jakajima[dot] eu.