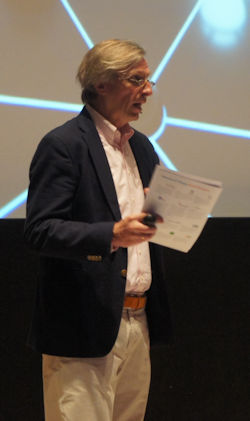 Combining business, technology, creativity, enthusiasm and humour is the leitmotif of Pieter Hermans, matchmaker for innovators. After his study Industrial Design Engineering at Delft University of Technology, he has had management functions in multinationals, software companies and has been partner in a consultancy company.
He acquired Jakajima, a Benelux publishing company, and restructured it towards a matchmaker for innovators in the high tech industry, ranging from 3D Additive Manfacturing to Internet of Things, from Unmanned Systems to Health Tech, from Photonics to 3D Bioprinting and from Experience Design to Virtual Reality.
As the technology develops itself from atoms to bits and from bits to atoms, traditional boundaries between value chains disappear which offers new business opportunities. Pieter Hermans, matchmaker for innovators, focuses on these crossovers.
Since July 2021 he is Chairman of the Platform Unmanned Cargo Aircraft, which is is an open, non-profit association of member organizations which aims to support the development and deployment of Unmanned Cargo Aircraft, while driving a consistent, focused and concise approach to market education that will highlight the benefits, use cases and deployments of Unmanned Cargo Aircraft (UCA) from first mile to middle mile and last mile and with small to large cargo implementations.
He has been chairman / moderator of several international conferences and has given many presentations on these crossovers of technology, business and creativity – not to forget enthusiasm and humour.
To get a good view of his broad experience and interest in many areas, have a look at his LinkedIn profile.
He is available as chairman / moderator for your conference as well. For more information about his availability as moderator / chairman / or booking, please use this form.
AND!
Watch the interviews Pieter Hermans makes with tech / innovation professionals from all over the globe.